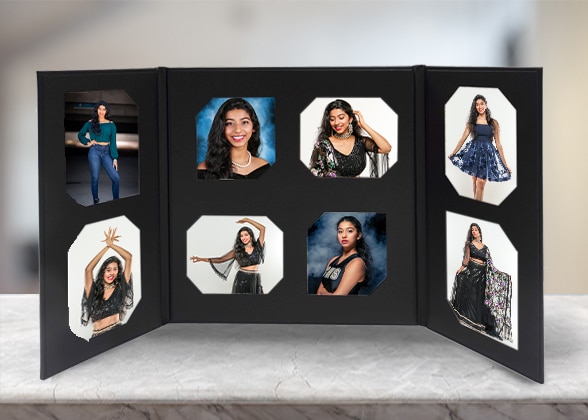 We believe Senior year is a MONUMENTAL milestone. So it deserves to be captured with professionally photographed memories. After finishing your Traditional Session, to view all of your Senior proofs you'll receive a leather-bound portfolio featuring 8 of your best poses by mail.
Don't think we picked your best image? No worries, you'll receive an envelope with your portfolio that includes all your other poses you took during your Senior session. Just gently slide and exchange the photos in your portfolio by hand. It's truly the best value if you want to get a printed copy of all your Senior poses.
Not 100% happy with your portraits? No problem! We offer retakes at no extra charge. Or, maybe you want to return your portfolio? Just log into your account and click the portfolio tab to return it or you can also schedule retakes on your events tab on your account dashboard.
*Your Senior Portfolio is not included in your session fee and must be purchased before your deadline or it's FREE with certain Senior packages. If you do not purchase or return your portfolio by the deadline, your credit card will be charged.
---
You might also like
---
---